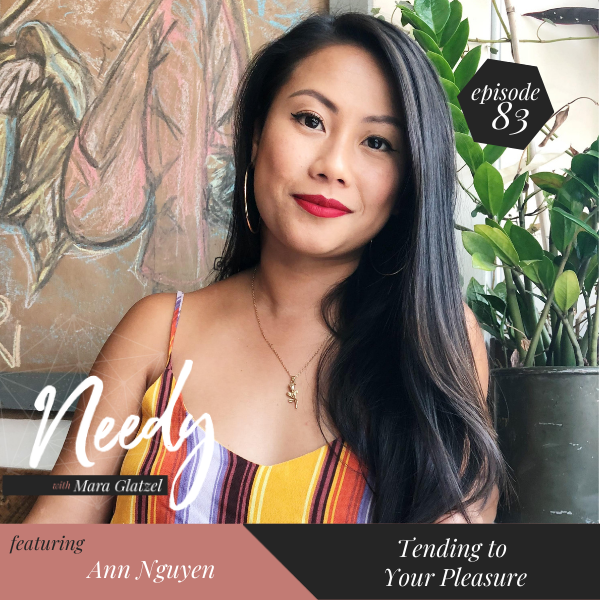 Pleasure is a big part of our needs and it comes in many forms. Tending to your need for pleasure can be connecting with yourself or someone else in an intimate way, or it can be nourishing yourself with a delicious meal or taking time to relax and do something enjoyable for you. You might tend to your need for pleasure by massaging your skin, surrounding yourself with things that delight and inspire you, or dressing yourself in a way that makes you vibrant. 
In this episode, I brought on Ann Nguyen, a sexual empowerment coach to talk all about owning your own pleasure and her journey of living her life from a pleasure-filled place.  
Born and raised in California as a first generation Vietnamese American woman, Ann has lived her whole life following two main things: her curiosity and her urge to question everything with "but why?". These curiosities and questions have led her down a dynamic path from graduating with a B.S. in Neuroscience at the University of California, Santa Barbara, to working in various jobs in the tech industry at Google, Facebook & YouTube.
Most recently, she's trained at the Tantric Institute of Integrated Sexuality and is a Women's Sexual Empowerment Coach. Her work is in service to changing the way women relate to their pleasure and rewriting the narrative of sexuality in our modern times, and creating safer spaces for women of color to pursue their healing and thriving. Through her coaching and online programs, she reconnects women to the power of their sexuality and facilitates deep transformation for sexual reclamation.
During this episode, Ann and I chat about learning how to ask for what you need from people you're involved with. We also talk about reframing the way you see self-pleasure and what you can do to heal the shame you feel around giving yourself the pleasure you deserve. 
Tune in to hear us explore…
Taking responsibility for your own pleasure

Redeveloping your mindset around self-pleasure 

How Ann's pleasure practices are woven into building self-trust
Hang with Ann Nguyen…
Love Needy? Pretty please subscribe on Apple Podcasts or Spotify and leave a rating & review. 
Really love Needy? Join the Needy Podcast Inner Circle! Special treats, discounts, quarterly Q&As and more for a one-time or monthly donation of any amount. Exclusively for folks who love the Needy podcast. THANK YOU.